Abdelkader Chaou -
عبد القادر شاعو
Biography of Abdelkader Chaou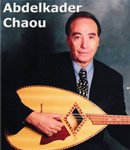 Abdelkader Chaou, Algerian popular music performer, was born on November 10, 1941 in Bab Jdid of Al Casbah of Algiers (Algeria).
Abdelkader Chaou first performed on Radio – Crochet, a radio program. He then joined Algiers Conservatory of music after which he recorded his first title ''Ya Dhou A Yani'' on Radio Alger in 1966.
Two years later, Abdelkader Chaou entered TNA and has participated in a gala in Shiraz (Iran) before quitting TNA.
In 1970, Abdelkader Chaou released two song s: ''Ghazali Goudami'' and ''Lilah wan cheftou koudami '' waiting for the breakthrough which will come in 1973 with '' Djah rebi ya djirani''.
Later on, Abdelkader increased his fame with '' Mazal khatmi'', ''Ya laâdra win moualik'' and ''Meriem Meriem''.
Abdelkader Chaou widely contributed to modernize Algerian Chaâbi music. In so doing, he was criticized by artists like Mahboub Bati, Mahboub Stambouli to have distorted the style.
Place a link to the page of Abdelkader Chaou on your website or blog
Post to your blog
Permanent link
BB CODE
Official Website of Abdelkader Chaou, photo of Abdelkader Chaou, song de Abdelkader Chaou, album of Abdelkader Chaou 2020, music video of Abdelkader Chaou , word of Abdelkader Chaou , listen Abdelkader Chaou mp3