Amar Ezzahi -
أمر الزاهي
Biography of Amar Ezzahi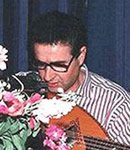 Amar Ezzahi, born Amar Aļt Zaļ on January 1st,1941 at Ain El Hammam, Tizi-Ouzou (Algeria), is an algerian Chaābi music performer.

Amar Ezzahi was first charmed by Chaābi when he was listening Boudjemaā El Ankis. In 1963, Amar Ezzahi met Cheikh Lahlou and Mohamed Brahimi who gave him some old Qacidats (poems) and taught him how to sing them. This is how Amar chose to devote himself to Chaābi music.
Later on, Amar Ezzahi had in his own orchestra a pearl of Chaābi, Cheikh Kaddour Bachtobdji who became in 1964 a precious piece in Amar's art.
In 1968, a first 45T included '' Ya djahel leshab'' and ''Ya el adraā''. Three years later, Amar published 45t and two 33T in 1976. His unique casset '' Ya rab El I bad'' was released in 1982.
Amar Ezzahi disappear from artistic scene by 1980 and only performed in special celebrations.
Place a link to the page of Amar Ezzahi on your website or blog
Post to your blog
Permanent link
BB CODE
Official Website of Amar Ezzahi, photo of Amar Ezzahi, song de Amar Ezzahi, album of Amar Ezzahi 2023, music video of Amar Ezzahi , word of Amar Ezzahi , listen Amar Ezzahi mp3