Baaziz -
باعزيز
Biography of Baaziz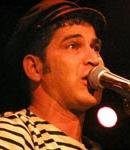 Baaziz, Algerian singer.
Born to an artists family, Baaziz chose a musical career. Through a talented meld of chaabi and Algerian folklor and very well-targeted words, Baaziz is one of the symbols of Algerian ''Protest Song''
Baaziz's first single ''Ya Hasrah Kikount Esseghir'' was released in 1989 and credited him with being the Bob Dylan of Algeria. His acts in dialectal Arab langage of François Renaud's biggest hits including ''Hexagone'' which became ''Enneya Liyoum Je M'en Fous'' was also much acclaimed. It is ''Algérie, Mon Amour'' which achieved his renown as a patriotic singer.
En 2000, Baaziz, hosted by an Algerian TV program, sang his very critical ''Waili Waili'' in front of high Algerian officials which attitude caused an interdiction of the title and the stop of his tour ''Jeel Music Live''.
Place a link to the page of Baaziz on your website or blog
Post to your blog
Permanent link
BB CODE
Official Website of Baaziz, photo of Baaziz, song de Baaziz, album of Baaziz 2022, music video of Baaziz , word of Baaziz , listen Baaziz mp3