Cheb Azzedine -
الشاب عزالدين
Biography of Cheb Azzedine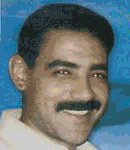 Cheb Azzedine is an Algerian Raï performer.
With songs like "Acha Jabek Kheira", "Ache Dani l'Ghorba", "Ache Jabek lia", "Ahbal Ya Lahbal" , "Alache Derti L3omrek ", "Ana Houa El Mal", Cheb Azzedine has conquered many audiences in Maghreb and European countries.
Cheb Azzedine has been arrested because of his lalbum "Choufou Lhogra" which was considered as an attempt to the government for it criticized the political institutions in Algeria.
Place a link to the page of Cheb Azzedine on your website or blog
Post to your blog
Permanent link
BB CODE
Official Website of Cheb Azzedine, photo of Cheb Azzedine, song de Cheb Azzedine, album of Cheb Azzedine 2020, music video of Cheb Azzedine , word of Cheb Azzedine , listen Cheb Azzedine mp3