Cheb Bilal -
الشاب بلال
Biography of Cheb Bilal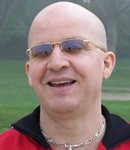 Cheb Bilal, born Bilal Mouffok on July 23th, 1966 in Cherchel (Algeria) is an algerian Raï music performer.
After graduating from the Conservatory of Music of Oran, Cheb Bilal debuted in private parties and local weddings and then formed his own band, ''El Ahouar''.
Later on, Cheb Bilal moved to Marseille (France). His music was highly appreciated within the algerian community in France. He then released his first album :''Babor Li Jebni''.
Cheb Bilal top albums are : ''Sidi Sidi'', ''Compilation Bilal'', ''Best of Bilal''.
Place a link to the page of Cheb Bilal on your website or blog
Post to your blog
Permanent link
BB CODE
Official Website of Cheb Bilal, photo of Cheb Bilal, song de Cheb Bilal, album of Cheb Bilal 2023, music video of Cheb Bilal , word of Cheb Bilal , listen Cheb Bilal mp3