Cheb Faudel -
الشاب فوضيل
Biography of Cheb Faudel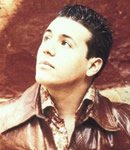 Faudel, a French-born Raï singer of Algerian descent, born Faudel Belloua on June 6, 1978 in Mantes-la-Jolie (France).
Faudel grew up in the suburbs of Paris and learned about Algerian music from his grandmother . Faudel first sang in Oran, Algeria, during a family wedding celebration and then began covering tracks by Cheb Khaled and Cheb Mami.
Later, Faudel front the popular band "Les Etoiles du Raï" and launched during January 98 a debut solo album titled "Baida" which was a big hit including a hugely acclaimed single "Tellement N'brick". Cheb Faudel went on to perform a whole string of concerts before joining his idols Cheb Khaled and Rachid Taha on a live album entitled "1,2,3 Soleils".
Faudel's albums discography includes "Samra", "Un Autre Soleil" and the most recently lauched "Mundial Corrida" (2006).
Place a link to the page of Cheb Faudel on your website or blog
Post to your blog
Permanent link
BB CODE
Official Website of Cheb Faudel, photo of Cheb Faudel, song de Cheb Faudel, album of Cheb Faudel 2023, music video of Cheb Faudel , word of Cheb Faudel , listen Cheb Faudel mp3