Cheb Hasni -
الشاب حسني
Biography of Cheb Hasni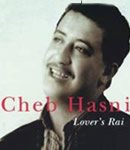 Cheb Hasni, born Hasni Chekroun on February 1st, 1968 in Oran (Algeria), was a performer of Algerian Raï music.
Cheb Hasni was intersted in music from an early age. He got his chance when singing in a local wedding where Naoui brothers were leading the group. Bewitched by his voice, they proposed him a stage in La Guinguette club.
Cheb Hasni had his big chance when remarked by a producer, he was asked to record with the Raï performer, Chaba Zahouania. Indeed, they published, in 1987, the very controversial "Beraka" ("The Shack") which gained the singer much fame with one million copies sold.
Later, Cheb Hasni launched an another hit "El Visa" which was sold 250,000 copies.
Cheb Hasni, star of the late 1980s, was known across Norh Africa not only for his provocative songs but particularly for his love songs.
Cheb Hasni was murdered outside his parents' home in Oran (Algeria), on September 29th, 1994.
Comments on Cheb Hasni
Place a link to the page of Cheb Hasni on your website or blog
Post to your blog
Permanent link
BB CODE
Official Website of Cheb Hasni, photo of Cheb Hasni, song de Cheb Hasni, album of Cheb Hasni 2023, music video of Cheb Hasni , word of Cheb Hasni , listen Cheb Hasni mp3