Cheb Mami -
الشاب مامي
Biography of Cheb Mami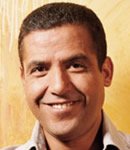 Cheb Mami, born Ahmed Khelifati Mohamed in July 11, 1966 in Saida (Algeria) is an Algerian raï singer.
Due to his soulful voice, Cheb Mami met success since his early teens. In The 1980s, he recorded some successful cassettes.
After a while in the Algerian military, Cheb Mami moved to Paris in 1975. Having recorded his first French-produced album, Cheb Mami went looking for fame by participating, with Cheb Khaled, in the first and unique festival of Raï music held in Bobigny (France).
Later on, Cheb Mami is the first Raï singer to perform in the Olympia in octobre 1986, the first to sing in USA in 1989 and record in Los Angeles in 1990 his album ''Let Me Rai''. Yet, his first album ''Prince of Raï'' was internationally-distributed.
In 1999, Cheb Mami recorded with Sting a duet ''Desert Rose'' and in 2003, an other duet with arab singer, Samira Bensaid, ''Youm Wara Youm''
Cheb Mami, alias ''The Prince of Raï'', sang in algerian, Arabic, French.
Place a link to the page of Cheb Mami on your website or blog
Post to your blog
Permanent link
BB CODE
Official Website of Cheb Mami, photo of Cheb Mami, song de Cheb Mami, album of Cheb Mami 2023, music video of Cheb Mami , word of Cheb Mami , listen Cheb Mami mp3