Cheikha Rimitti -
الشيخة الرميتي
Biography of Cheikha Rimitti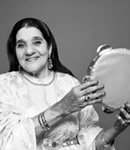 Cheikha Rimitti, born Saadia Rimitti in 1920 in a small town called Relizane in Oran (Algeria), was an Algerian Raï music performer.
Orphaned at an early age, Cheikha Rimitti used to earn her bread and butter by dancing with a group of Cheikhs (male singers). Before becoming the first Lady of Raï music, Cheikha Rimitti widely contributed to promote Raï style. Her own story is made of Raï's one.
Rimitti while beginning to sing was one of Cheikhat (female singers) who performed a music style called wahrani made of Berber, Bedouin and Andalusian elements. Sung in Algeria's bars frequented by French colonial officials, Wahrani which is going to lead to Raï expressed hard-living people complaints in French colonial Algeria. The genre texts were also full of sexual insinuation which made it a big taboo.
Cheikha Remitti made the difference by publishing a first record in 1936. As facing a strong criticism of the colonial French rulers and conservative Muslims, Rimitti's fame spread step by step. Her popularity grew up during long years of active performing and recording. She earned a wide recongnition accross and outside Algeria.
In 1952, Cheikha Rimitti made a first record on prestigious Pathé Records under the name Cheikha Remettez Reliziana and by the 1970s, Cheikha Remitti was performing for the Algerian immigrant community in France.
Cheikha Rimitti, aged 83, died from a heart attack on 15 May 2006 in Paris.
Place a link to the page of Cheikha Rimitti on your website or blog
Post to your blog
Permanent link
BB CODE
Official Website of Cheikha Rimitti, photo of Cheikha Rimitti, song de Cheikha Rimitti, album of Cheikha Rimitti 2022, music video of Cheikha Rimitti , word of Cheikha Rimitti , listen Cheikha Rimitti mp3