El Hachemi Guerouabi -
الهاشمي الكروابي
Biography of El Hachemi Guerouabi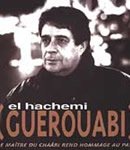 El Hachmi Guerouabi, also named El-Hadj El Hachimi Guerouabi, born January 6, 1938 in El Mouradia, Algiers (Algeria) was an Algerian singer and composer of Chaâbi.
El Hachimi Guerouabi grew up with two passions Football and music. His interest to music triumphed on a brilliant football career he carried on unil 1952.
Influenced by the music of Algerian Chaâbi figures El Hadj M'hamed El Anka, M'rized and Hssissen, El Hachimi Guerouabi never turned down the opportunity of participating in El Arbi Music-Hall contest. Winner, he joined the Opera of Algiers in 1953.
Fearing the invasion of foreign music after the independence of Algeria in 1962, Guerouabi devote himself to modernize Algerian music by introducing deep-rooted changes to his compositions.
In a short time, El Hachimi Guerouabi became one of the Grand Masters of the Algiers-based Chaâbi music with a huge fan base of Chaâbi music. During his golden age, El Hadj El Hachimi Guerouabi performed in various occasions solicited by most notable institutions and individuals.
El Hachimi Guerouabi died on July 17th, 2006 from severe diabetes leaving behind him a remarkable contribution in Algerian repertoire of Chaâbi music.
Place a link to the page of El Hachemi Guerouabi on your website or blog
Post to your blog
Permanent link
BB CODE
Official Website of El Hachemi Guerouabi, photo of El Hachemi Guerouabi, song de El Hachemi Guerouabi, album of El Hachemi Guerouabi 2023, music video of El Hachemi Guerouabi , word of El Hachemi Guerouabi , listen El Hachemi Guerouabi mp3