Fella Ababsa -
فيلة أبابسه
Biography of Fella Ababsa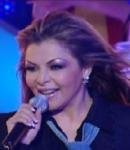 Fella Ababsa, Algerian pop singer, was born to a poet, musician and singer Abdelhamid Ababsa.
Fella grew up with the sound of Algerian popular and Andalusian music, she early showed a special musical talent. Later, with a rocky, melodious voice, Fella seduced Andalusian and popular Algerian audience and made her first steps into Arab scene.
At the age of 20, Fella Ababsa moved to London to learn more about music. However, Fella released her first single "Tachakkorat" much later. The song was a big hit and took her to the front of Arab musical scene.
Fella's most popular album is "Ahl Ettarab" in which the singer criticizes the new wave of singers less talented compared to classical artists.
Fella Ababsa have sung in several countries including the United States, Tunisia, Morocco and France but feel closer to Arab audience because they understand her songs and can appreciate her voice.
Place a link to the page of Fella Ababsa on your website or blog
Post to your blog
Permanent link
BB CODE
Official Website of Fella Ababsa, photo of Fella Ababsa, song de Fella Ababsa, album of Fella Ababsa 2020, music video of Fella Ababsa , word of Fella Ababsa , listen Fella Ababsa mp3