Hamid Baroudi -
حميد البارودي
Biography of Hamid Baroudi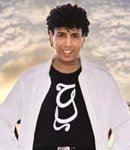 Hamid Baroudi, Algerian born, Germany-based singer, composer and guitar virtuoso.
Hamid Baroudi grew up in Algeria. In 1981, he moved to France and three years later to Germany to study music in the Academy of Music of Cassel. After graduating, he first sang in the streets and later joined Dissidenten band as a front singer. With English musician Peter Garbriel's, Hamid Baroudi went in tours across Europe and to Japan in 1991 for the propaganda of his album "Caravan to Baghdad" which was #1 in 17 country.
Hamid Baroudi's most popular songs are : "Caravan to Bagdad", "Disidenden (1991)", "Salama" (1995), "Sidi" (2001) and "Streets of Algiers" .
Hamid Baroudi is living in Germany.
Place a link to the page of Hamid Baroudi on your website or blog
Post to your blog
Permanent link
BB CODE
Official Website of Hamid Baroudi, photo of Hamid Baroudi, song de Hamid Baroudi, album of Hamid Baroudi 2022, music video of Hamid Baroudi , word of Hamid Baroudi , listen Hamid Baroudi mp3