Houari Dauphin -
الهواري دوفان
Biography of Houari Dauphin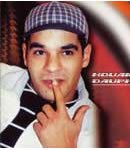 Houari Dauphin, algerian singer, was born in the 1970s (Algeria).
Born in El-Bahia, Raï music capital, Houari Dauphin joined the Conservatory of Music of Oran, a Raï musical career in mind.
Houari Dauphin first performed in private parties and celebrations. In 1996, he released his first album and went in tour to France and other countries.
During the coming 10 years, Houari Dauphin featured 40 K7 and signed with famous producers.
Houari Dauphin latest album, "mhatma nkhalik", was released in 2006 .
Place a link to the page of Houari Dauphin on your website or blog
Post to your blog
Permanent link
BB CODE
Official Website of Houari Dauphin, photo of Houari Dauphin, song de Houari Dauphin, album of Houari Dauphin 2022, music video of Houari Dauphin , word of Houari Dauphin , listen Houari Dauphin mp3