Kamal Messaoudi -
كمال المسعودي
Biography of Kamal Messaoudi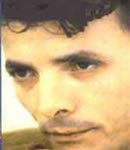 Kamel Messaoudi, Moroccan Chaâbi music performer, was born January 30th, 1961 in Bouzareah, Algiers (Algeria) to a modest-means family.
Smart student, Kamel was vowed to a brilliant career but chose to devote himself to music.
In 1974, Kamel Messaoudi formed his band. Thanks to a strong voice and a big talent, Kamel Messaoudi was quickly discovered, first by his circle and then by professionals.
Kamel Messaoudi sang "Echamaa", "Ya dzair ra7 tab el qalb", "Njoum ellil" and "Hanna".
Place a link to the page of Kamal Messaoudi on your website or blog
Post to your blog
Permanent link
BB CODE
Official Website of Kamal Messaoudi, photo of Kamal Messaoudi, song de Kamal Messaoudi, album of Kamal Messaoudi 2021, music video of Kamal Messaoudi , word of Kamal Messaoudi , listen Kamal Messaoudi mp3