Naima Ababsa -
نعيمة أبابسه
Biography of Naima Ababsa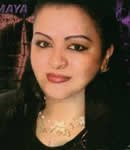 Naima Ababsa is an Algerian female singer born in Algiers to an artistic family. Her father, Abdelhamid Ababsa, was one of the most important Algerian musical figures during 40 years, her mother sang in a popular orchestra, her sister is no other than the Arab superstar Fella and her brothers are notorious musicians.
Naima Ababsa started her singing career performing Algerian Chaoui style including Setifi, Constantini, Annabi and Aurès and gave her first concerts in France where she was living for long and where she conquered French audiences and Djs.
Naima Ababsa is known as Motribate Al Aaras (the wedding singer) or Dance-machine because of her rhythmic songs. Naima Ababsa is an inescapable of the biggest celebrations and events in Algeria. She prefers consuming all her energy on the stage which earned her another nickname "a stage bomb". It is also the reason why she had no recorded discography.
Place a link to the page of Naima Ababsa on your website or blog
Post to your blog
Permanent link
BB CODE
Official Website of Naima Ababsa, photo of Naima Ababsa, song de Naima Ababsa, album of Naima Ababsa 2020, music video of Naima Ababsa , word of Naima Ababsa , listen Naima Ababsa mp3