Rachid Taha -
رشيد طه
Biography of Rachid Taha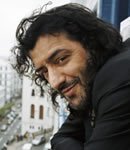 Rachid Taha is an Algeria-born, France-based musician born 1958 in Oran, Algeria.
Rachid Taha made his first steps toward one of the most impressing singing careers in 1983 with the French Rock band Carte de Séjour, lining up Rachid, Djamel Dif and Eric Vaquer. The first work of the band was a maxi single entitled "Carte de Séjour" released in 1983 followed by an LP "Rhoromanie" in 1984 and "Deux et Demi" two years later including the famous cover of "Douce France".
After the band has been dissolved in 1989, Rachid Taha launched a solo career. He broke through with an album "Diwan" including remakes of Maghrebian and Arab songs. In 2004, Rachid Taha released another hit album "Tekitoi". In 2001, the song "Barra Barra" from his album Made in Medina was featured in the motion picture Black Hawk Down.
Rachid Taha is a member of 1,2,3 soleils together with Cheb Khaled and Faudel. The song "Abdelkader" featured with the band was a big success.
Place a link to the page of Rachid Taha on your website or blog
Post to your blog
Permanent link
BB CODE
Official Website of Rachid Taha, photo of Rachid Taha, song de Rachid Taha, album of Rachid Taha 2022, music video of Rachid Taha , word of Rachid Taha , listen Rachid Taha mp3