Raina Rai -
الراينة راي
Biography of Raina Rai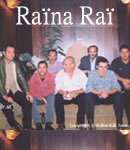 Raina Ray is one of Algeria's most exciting dance bands.
Raina Ray style is deeply rooted in Algerian traditional Raï involving influences of western rhythms and instruments like guitar, saxophone and table drums replacing old Gasba and Guellal.
Raina Ray's most important albums are their first "Ya Zina" released in 1983 and "Rana Hak" (1992) and "Rana Hna".
Raina Ray's debut single "Ya Zina " was a great success. It was featured on the soundtrack of the film Tchao Pantin.
Place a link to the page of Raina Rai on your website or blog
Post to your blog
Permanent link
BB CODE
Official Website of Raina Rai, photo of Raina Rai, song de Raina Rai, album of Raina Rai 2023, music video of Raina Rai , word of Raina Rai , listen Raina Rai mp3