Reda Taliani -
رضى الطلياني
Biography of Reda Taliani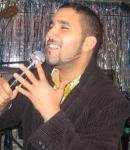 Reda Taliani, Algerian Raï music performer, was born in 1980 in El-Biar town, Algiers (Algeria).
Since his was a child, Reda Taliani entered Koléa Conservatory of arab and andalousy music. Later on, he met producer Issame with whom he recorded a whole discography which made him a Raï music revelation.
The music of Reda Taliani is widely influenced by Cheb Khaled and Sahraoui styles but also by Bob Marley and Santana's.
Throughout his music, Reda Taliani express young's thoughts, pains and expectations. His texts were very criticized and accused to be excessive and leading to teen suicide.
Living in Aubagne, Marseille (France) since a long time, Reda Taliani is the new figure of French Rap-R'n'B scene. He last featured ''Partir Loin'' with 113.
Place a link to the page of Reda Taliani on your website or blog
Post to your blog
Permanent link
BB CODE
Official Website of Reda Taliani, photo of Reda Taliani, song de Reda Taliani, album of Reda Taliani 2023, music video of Reda Taliani , word of Reda Taliani , listen Reda Taliani mp3