Warda Al Jazairia -
وردة الجزائرية
Biography of Warda Al Jazairia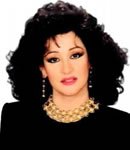 Warda Al Jazairia, Algerian singer, was born in Puteaux (France) in 1940 to an Algerian father and a Lebanese mother.
Warda Al Jazairia started singing in 1951 when she was only 11 years-old. Very quickly she imposed herself with very patriotic Algerian songs.
In 1958, due to her songs, Warda Al Jazairia left France and moved to Beyrouth (Lebanon) and then to Algeria after its independence .
In 1962, Warda Al Jazairia got married and gave up her singing career at the request of her husband. In 1972, she was solicited by Algerian president Houari Boumediene to sing at Algeria's independence anniversary. Her husband Angry, Warda divorced and went to Egypt to begin a musical career.
In Egypt, Warda Al Jazairia met the famous composer Baligh Hamdi with whom she got married and worked on many of her songs together with other renowned Egyptian composers Mohamed Abdelwahab or Sayyed Mekkawy. A few years later, her disks are sold millions of albums all over the world and her discography reaches some 300 successful songs including ""Lola El Malama", "Batwannes Bik", ""Harramt Ahibbak", "Wahashtouni" …
Warda Al Jazairia also acted in many Egyptian movies.
Comments on Warda Al Jazairia
Place a link to the page of Warda Al Jazairia on your website or blog
Post to your blog
Permanent link
BB CODE
Official Website of Warda Al Jazairia, photo of Warda Al Jazairia, song de Warda Al Jazairia, album of Warda Al Jazairia 2023, music video of Warda Al Jazairia , word of Warda Al Jazairia , listen Warda Al Jazairia mp3