Ahmad Adawiya -
أحمد عدوية
Biography of Ahmad Adawiya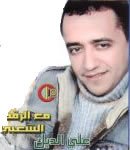 Godfather of Egyptian Chaabi music , Ahmed Adawiya was born in Egypt.
Ahmad Adawiya knew prominence in the early 1970s. By the mid-1980s, Ahmad Adawiya became a reference point for a new wave of Egyptian music.
With songs like "Ya Benti Soltan", "Zahma", "Habba Fo' Wi Habba That", Ahmad Adawiya has been the pioneer of contemporary Egyptian Chaabi music.
Ahmad Adawiya was found comatose in a room at the Marriott Hotel here after overdosing on heroin.
Place a link to the page of Ahmad Adawiya on your website or blog
Post to your blog
Permanent link
BB CODE
Official Website of Ahmad Adawiya, photo of Ahmad Adawiya, song de Ahmad Adawiya, album of Ahmad Adawiya 2023, music video of Ahmad Adawiya , word of Ahmad Adawiya , listen Ahmad Adawiya mp3