Ahmed Fahmi -
أحمد فهمي
Biography of Ahmed Fahmi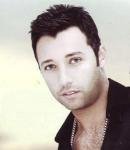 Ahmed Fahmi, Egyptian singer.
Together with Mohamed Nour, Ahmad Chami et Nadir Hamdy, Ahmed Fahmy started singing within Egyptian band Wama. The group succeeded thanks to its romantic songs and the soulful combination of its members' voices. It quickly became one of the most popular names of Egyptian musical scene. It was also the first and unique band in Egypt and Arab world.
Beside his work with Wama, Ahmed Fahmy launched a solo career in 2007. His first album was produced by Melody Entertainment. The album was titled "Jit Fi Bali'' and included eight tracks.
Place a link to the page of Ahmed Fahmi on your website or blog
Post to your blog
Permanent link
BB CODE
Official Website of Ahmed Fahmi, photo of Ahmed Fahmi, song de Ahmed Fahmi, album of Ahmed Fahmi 2023, music video of Ahmed Fahmi , word of Ahmed Fahmi , listen Ahmed Fahmi mp3