Angham -
أنغام
Biography of Angham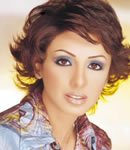 Angham, Egyptian singer, record producer and actress, was born January 19, 1969 in Alexandria, Egypt.
Encouraged by her father, Angham launched her singing career in 1987 and quickly became one of the most esteemed voices of the 1980s in Egypt but not yet in Arab Countries despite the success that songs like "Illa Ana", "Baatli Kilma" and others had achieved.
Since 2000, Angham adopted a new style, much less tied to classical songs and tried a new appearance. Indeed, "Leih Sebtaha" song made her enter the competition with new voices in the Middel East s musical scene. She signed with Rotana Recording as a foretaste.
"Sidi Wisalak" was even more successful than "Leih Sebtaha" and catapulted Angham into stardom as one of the most distinguished voices of the 2000s and one of the most graceful female singers in Arab scene.
In 2005, Angham came back with "Bahibbik Wahashteeny" which achieved an important success. In 2007, it was "Kollima N'arrab" established Angham one again in the forefront of Arabic pop music with more than half a million CD of sales and a Platinium certification.
After getting divorced from Magdy Aref in 2000, Angham married Kuwaiti music distributor, Fahed. They divorced after two years of marriage.
Place a link to the page of Angham on your website or blog
Post to your blog
Permanent link
BB CODE
Official Website of Angham, photo of Angham, song de Angham, album of Angham 2023, music video of Angham , word of Angham , listen Angham mp3