Bahaa Soltan -
بهاء سلطان
Biography of Bahaa Soltan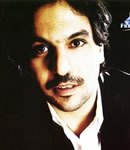 Bahaa Soltan is an Egyptian singer.
He broke through with a smash hit ' Ya Tara'.
Bahaa Soltan released many albums like 'Ya tara', ' Om oukaf', 'Kan Zaman', '3Dkayak'... and shot music videos of songs ' Ya tara', 'Oum oukaf', 'El Wad Albo beyewga'oh', 'Kan Zaman', which were very popular....
Baha Soltan interpreted 'Ana moush Ma'ahom' in the movie ' Ana mosh ma'ahom'.
Place a link to the page of Bahaa Soltan on your website or blog
Post to your blog
Permanent link
BB CODE
Official Website of Bahaa Soltan, photo of Bahaa Soltan, song de Bahaa Soltan, album of Bahaa Soltan 2023, music video of Bahaa Soltan , word of Bahaa Soltan , listen Bahaa Soltan mp3