Ehab Tawfik -
إيهاب توفيق
Biography of Ehab Tawfik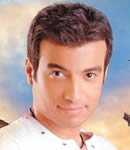 Ehab Tawfik is an outstanding Egyptian singer, Middle-eastern artist, born January 7, 1966.
Seduced by music since his early childhood, Ehab Tawfik took lute lessons and discovered his artistic talent.
Ehab Tawfik graduated with a Masters Degree in 1995 and started working toward a Doctorate in Music and Arabic singing he completed in April 2002 for a thesis entitled : "The Methods of Performing Arabic Singing in Egypt during the second half of the last century".
Ehab Tawfik officially started his musical career in 1989 with a debut single "Dany" followed by his first album "Ekminny" he released one year later but he actually broke with a hit "W Adda Lil" released in 1995 which earned the fame he sought for.
Ehab Tawfik's discography includes 15 albums celebrating practically year by year during 28 years a heady career and a surprising talent for creativity. The latest is an album vowed to religious theme and is titled "Ya Rassul Allah" and launched in 2007.
In 2007, Ehab Tawfik married Nada Ehab Tawfik and signed with Alam El Pahn Production Company.
Comments on Ehab Tawfik
Place a link to the page of Ehab Tawfik on your website or blog
Post to your blog
Permanent link
BB CODE
Official Website of Ehab Tawfik, photo of Ehab Tawfik, song de Ehab Tawfik, album of Ehab Tawfik 2022, music video of Ehab Tawfik , word of Ehab Tawfik , listen Ehab Tawfik mp3