Fayza Ahmed -
فايزه احمد
Biography of Fayza Ahmed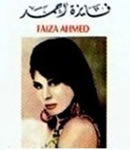 Egyptian outstanding singer and charming actress Fayza Ahmed was born in 1934 in Sayda, Lebanon to a Syrian father and a Lebanese mother.
Fayza Ahmed's most popular songs are "Ana Qalbi Elik Mayal", "Ya'manta waheshny" and "Hammal El Assia" . Fayza Ahmed is most known for her song "Set Elhabayb" which was dedicated to mothers.
Alongside Naima Akef and Rushdy Abaza, Fayza Ahmed starred in Egyptian movie "Tamr Henna" in 1957. Fayza Ahmed died on September 21, 1983 in Cairo from Cancer.
Place a link to the page of Fayza Ahmed on your website or blog
Post to your blog
Permanent link
BB CODE
Official Website of Fayza Ahmed, photo of Fayza Ahmed, song de Fayza Ahmed, album of Fayza Ahmed 2020, music video of Fayza Ahmed , word of Fayza Ahmed , listen Fayza Ahmed mp3