Hakim -
حكيم
Biography of Hakim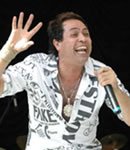 Hakim, Egyptian singer, was born in in 1962, in Maghagha, a small town in Al Minya, Egypt.
Born to a working-class family, Hakim grew up with the sound of Sha'bi. Later, influenced by Ahmad Adaweya, he dreamed of a singing career.
Hakim formed first stepped in music world while he was fourteen. With the band he formed, Hakim started at private parties and school events, singing covers of classic Sha'bi hits of Ahmed Adaweya and others.
Although Hakim attended the Al-Azhar University in Cairo from which he graduated in 1983 with a degree in communications, Hakim never gave up his dream he formed a new band and started performing all over Minya province. Later on, Hakim returned to Cairo and met Hamid El-Shaeri who proposed him a recording contract.
Hakim's first album was "Nazra" he released in 1991. The album was one of the most successful and topped sales charts during two months. His next album "Nar" released in 1994 took him to France representing Egypt in the Festival des Allumées held in Nantes.
In 2000, Hakim won the Kora Award for the category of the Best North African Singer. His new album was "Efred" gave him even greater success. Hakim was moving towards global audience.
Hakim came back recently with two smash hit : a duet with the eminent James Brown "El Yomen Dol" and a song "Abousso".
Place a link to the page of Hakim on your website or blog
Post to your blog
Permanent link
BB CODE
Official Website of Hakim, photo of Hakim, song de Hakim, album of Hakim 2020, music video of Hakim , word of Hakim , listen Hakim mp3