Hamada Helal -
حمادة هلال
Biography of Hamada Helal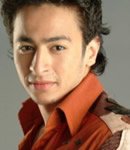 Hamada Helal, born Mohamed Hamada Abdel Fatah Helal in Sharqia, Egypt, is a notorious Egyptian singer.
Hamada was attracted to music since he was at the age of five. Later, he used to listen Abdelhalim Hafez, Um Kulthum and other classical music figures. His first singing experience dates back to school parties and even breaks while he was singing with his friends.
Discovered by one of his relatives, Hamada Helal was introduced to a musician who learned him the music basics and helped him go through a musical career by first proposing him as a wedding singer in one of his friend's marriage. Thanks to this opportunity, Hamada met the famous composer Hamid El Shaerry who gave him a contract with a recording studio.
Hamada Helal first took place on the Arab musical scene with a single "Bakhaf" he followed by "Daymane Doumou3" which both titles seduced a large audience.
Hamada Helal has since produced four albums including his latest "Waheshni". He also acted in Egyptian movie: "3yal Habiba" that includes other songs of his such as "Ya Rab".
Place a link to the page of Hamada Helal on your website or blog
Post to your blog
Permanent link
BB CODE
Official Website of Hamada Helal, photo of Hamada Helal, song de Hamada Helal, album of Hamada Helal 2023, music video of Hamada Helal , word of Hamada Helal , listen Hamada Helal mp3