Hamza El Din -
حمزة الدين
Biography of Hamza El Din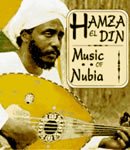 Hamza El Din, born July 10, 1929 in the village of Toshka, in southern Egypt, was a Nubian composer, oud player, tar player, and vocalist.
After working as Electric engineer in Cairo for the Egyptian national railroad, Hamza changed direction and enrolled in the Cairo University. Later, he flew to Italia to enter the Accademia Nazionale di Santa Cecilia in Rome and then came back to Egypt to continue his musical learning.
Thanks to his talent, Hamza El Din caught in the 1960 the attention of figures of world music like His Grateful Dead, Joan Baez, and Bob Dylan, which took him to the United States.
In 1964 and 1965, Hamza El Din released two albums followed in1968 by "Escalay". "The Water Wheel" from the album was reputed as one of the first world music recordings to earn wide release in the West.
Hamza El Din later released albums for prestigious companies like Lotus Records and Sounds True. An arrangement of Escalay in 1992 will be used in ballet performances and plays. El Din teached ethnomusicology in the United States during the 1980s and 1990s. In 1999, he released his last album, "A Wish".
After complications following surgery for a gallbladder infection, Hamza El Din died on May 22, 2006, at a hospital in Berkeley, California.
Place a link to the page of Hamza El Din on your website or blog
Post to your blog
Permanent link
BB CODE
Official Website of Hamza El Din, photo of Hamza El Din, song de Hamza El Din, album of Hamza El Din 2022, music video of Hamza El Din , word of Hamza El Din , listen Hamza El Din mp3