Hani Shaker -
هاني شاكر
Biography of Hani Shaker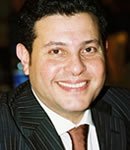 Hani Shaker is a famous Egyptian singer, composer and actor born in Cairo on December 21, 1952.
Hani Shaker first broke through with "Heloua Ya Dounia" released 1972 and song-written by famous songwriter Mohamed Al Mouji. Two years later, he came back with new hits: "Siboni Aheb" and "Kisma w'nasib" but especially "Kida Bardo Ya Amar".
In the early 1990s, Hani shaker released an eight-tracked album "Albi Malouh", a whole self-song-written opus which brought him renown as songwriter. Hani shaker worked with famous composers like Salah El Sharnoubi, Tarik Akif, Mohamed Sultan, Baleigh Hamdi.
Throughout his long and successful career, Hani Shaker has proved he is not only a successful singer with over 461 songs in his discography but also an accomplished artist. Of course, Hani Shaker is a talented actor. He presented famous Plays including "Cinderella" and "Egypt" and starred in romatic movies.
Place a link to the page of Hani Shaker on your website or blog
Post to your blog
Permanent link
BB CODE
Official Website of Hani Shaker, photo of Hani Shaker, song de Hani Shaker, album of Hani Shaker 2023, music video of Hani Shaker , word of Hani Shaker , listen Hani Shaker mp3