Hisham Abbas -
هشام عباس
Biography of Hisham Abbas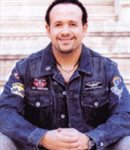 Hisham Abbas, born Mohamed Hisham Mahmoud Mohamed Abbas on September 13, 1963 in Cairo, Egypt, is an Egyptian pop singer.
Graduated with a major in Mechanical Engineering from the American University in Cairo, Hisham Abbas surprisingly chose a singing career for he was attracted to arts since an early age.
Joining the Pats Band, Hisham Abbas made her first step toward a heady singing career. Together with the Pats Band line-up, Hisham covered Egyptian and Arabic songs like "Halawet Shamsena", "Ala Remesh Oyonha" and more. A stroke of luck for Hisham's career, he met the renowned producer and singer Hamid El Shaery with whom he worked on his breakthrough "Halal Aleik" and on other important songs of his discography like "Einy" released in the mid 1990s.
Later on, Hisham Abbas rose to fame in the early 1990s. "Wana Wana Wana", "Shoofi" and the inescapable "Habibi Dah" (Nari Narain) confirmed him as an Arab pop star and a best album seller in the Middle East.
Hisham Abbas's discography includes ten successful albums from 1992 to 2007.
Place a link to the page of Hisham Abbas on your website or blog
Post to your blog
Permanent link
BB CODE
Official Website of Hisham Abbas, photo of Hisham Abbas, song de Hisham Abbas, album of Hisham Abbas 2020, music video of Hisham Abbas , word of Hisham Abbas , listen Hisham Abbas mp3