Hossam Habib -
حسام حبيب
Biography of Hossam Habib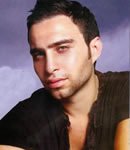 Hossam Habib is an Egyptian singer.
He started her career in 2002, with single entitled 'Men Yomak' which was released in collection album.
2 years later Hossam Habib launched his first album 'Lessa', which was produced by EWE for music production and shot his first clip video 'Lessa'.
In 2006, Hossam released his second album entitled ' Ajmal Kesset Hob' which were very popular. He has cooperated with the composers Amr Mostapha and Tamer Ali.
Later that year Hossam Habib launched several single such as 'Inta Ma3aia', composed by Hossam himself, and ' Asebak La'.
Actually, Hossam Habib is preparing for his upcoming album, with melody music production.
Place a link to the page of Hossam Habib on your website or blog
Post to your blog
Permanent link
BB CODE
Official Website of Hossam Habib, photo of Hossam Habib, song de Hossam Habib, album of Hossam Habib 2023, music video of Hossam Habib , word of Hossam Habib , listen Hossam Habib mp3