Mayada EL Hanawi -
ميادة الحناوي
Biography of Mayada EL Hanawi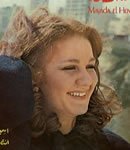 Mayada Al Hanawi is a famous Syrian singer born October 8, 1959 in Halab (Syria).
Mayada Al Hanawi was one of the prominent artists of the late 20th century. Her songs were composed by such notorious Arab composers as Baligh Hamdi, Ryad Sonbaty, Mohamed El Mouji, Mohamed Soltan, Helmi Bakr and others.
Mayada Al Hanawi reached the peak of her fame in the 1980s thanks to a soulful, strong voice and a rare ability to interpret all kinds of traditional songs.
Mayada Al Hanawi's hit songs are: "Ana Baacha'ak", "Habbina w Ithabbina", "Ana Mokhlisalak", "Kan Ya Makan".
Mayada Al Hanawi has performed in prestigious Arab Halls such as Dar El Opera in Syria where she delighted audiences of Arab Summit held in Syria with patriotic songs like "Ya Cham", "Beirut", "Cham Al Arab"…
Place a link to the page of Mayada EL Hanawi on your website or blog
Post to your blog
Permanent link
BB CODE
Official Website of Mayada EL Hanawi, photo of Mayada EL Hanawi, song de Mayada EL Hanawi, album of Mayada EL Hanawi 2023, music video of Mayada EL Hanawi , word of Mayada EL Hanawi , listen Mayada EL Hanawi mp3