Mohamed Abdelwahab -
محمد عبد الوهاب
Biography of Mohamed Abdelwahab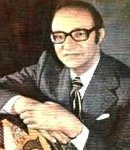 Legendary Egyptian composer, Oud player, singer and actor Mohamed Abdelwahab, was born in 1907 in Cairo, Egypt.
Mohamed Abdelwahab made his first recording while he was 13. In 1924, it was the Prince of Poets, Ahmed Shawky who adopted him. A little later, Abdel Wahab played oud before Ahmed Shawqi and then began to write melodies to his texts by the late 1920s.
Inspired by Western melodies and French musical presentations, Mohamed Abdelwahab created a novel kind of romantic films dominated by urban sophistication. His music also turned to simplicity and innovation. The film "The White Flower" was a big success and achieved huge attendance records.
Many actresses found way to success thanks to this tendency such as Leila Mourad. Abdelwahab also introduced new musical instruments and styles leading that way to the most important musical revolution of the 20th century in Egypt and from to Arab countries.
In the 1950s, Mohamed Abdel Wahab switched to a singing career till the 1960s while he just devoted himself to composing for other singers. Thus, he composed 10 songs for Omm Kalthum, Abdelhalim Hafez, Ismahane… He was responsible for more than a thousand songs including one hundred he sang himself.
Mohamed Abdelwahab died in 1991.
Place a link to the page of Mohamed Abdelwahab on your website or blog
Post to your blog
Permanent link
BB CODE
Official Website of Mohamed Abdelwahab, photo of Mohamed Abdelwahab, song de Mohamed Abdelwahab, album of Mohamed Abdelwahab 2023, music video of Mohamed Abdelwahab , word of Mohamed Abdelwahab , listen Mohamed Abdelwahab mp3