Mohamed Hamaki -
محمد حماقي
Biography of Mohamed Hamaki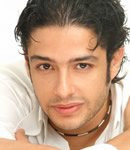 Mohamed Hamaki, born Mohamed Ibrahim Hamaki in Cairo, on November 04, 1975, is an Egyptian pop singer.
Mohamed Hamaki first appeared to audience in 2003 with a debut album ''Khallena N'eesh'' from which he shot one song "Betedhak", a great success.
Two years later, Mohamed Hamki released a single "Yana Yanta" followed by a second album "Kheles El Kalam" in 2006 which earned him the Platinum CD as the best selling middle eastern artist of the year.
The song "Wahda Wahda" and the latest "Ahla Haga Feki" achieved a great success and was very popular.
Place a link to the page of Mohamed Hamaki on your website or blog
Post to your blog
Permanent link
BB CODE
Official Website of Mohamed Hamaki, photo of Mohamed Hamaki, song de Mohamed Hamaki, album of Mohamed Hamaki 2022, music video of Mohamed Hamaki , word of Mohamed Hamaki , listen Mohamed Hamaki mp3