Mohamed Mohy -
محمد موحي
Biography of Mohamed Mohy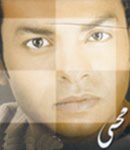 Mohamed Mohy is an Egyptian singer.
He rose to fame with the songs 'Ahl El Malam' and 'Ana Bashkourak' which was very popular.
Mohamed Mohy released many albums among them is cited ' Rou7 Alby', 'A'atbak', 'Shari3 El Hawa', 'Leih El 7abib','7abit', 'Soura w Dem3a', '9ader w Te3melha'...
Throughout his career, Mohamed Mohy shot a number of his songs as video clips that increased his fame and popularity such as ' 'Leh Beyafakarouni ', 'Waso El Ayam', '9ader w Te3melha', 'Bet7ebe Nafsak'...
Place a link to the page of Mohamed Mohy on your website or blog
Post to your blog
Permanent link
BB CODE
Official Website of Mohamed Mohy, photo of Mohamed Mohy, song de Mohamed Mohy, album of Mohamed Mohy 2021, music video of Mohamed Mohy , word of Mohamed Mohy , listen Mohamed Mohy mp3