Mohamed Mounir -
محمد منير
Biography of Mohamed Mounir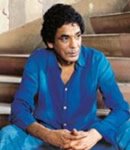 The darling of Egyptian youth Mohamed Mounir was born October 10, 1954 in Aswan, Egypt with Nubia-Egyptian origins.
Mohamed Mounir 's music comprises various genres of traditional Egyptian and African music while his lyrics are often social and political giving birth to a totally different musical style from the traditional Egyptian sounds. Mohamed Mounir also proved his uniqueness with an original –first disdained- appearance. Mohamed Mounir soon became a respected artist and his music came to a liberal thought, hope and a desire for reform synonymous for many Egyptians.
Mohamed Mounir silver-screen experiences include the inescapable "Almassir" of Youssef Chahine.
Place a link to the page of Mohamed Mounir on your website or blog
Post to your blog
Permanent link
BB CODE
Official Website of Mohamed Mounir, photo of Mohamed Mounir, song de Mohamed Mounir, album of Mohamed Mounir 2022, music video of Mohamed Mounir , word of Mohamed Mounir , listen Mohamed Mounir mp3