Mohamed Nour -
محمد نور
Biography of Mohamed Nour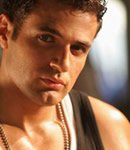 Mohamed Nour, Egyptian young singer.
Mohamed Nour entered the conservatory of music at the age of seven with Ahmad Fahmy, Nadir Hamdy and Ahmad Shamy with whom he formed in 2001 the unique and very popular music band in the Arab scene Wama.
Mohamed Nour launched his first solo album "Nour Einek" which conquered both audiences and critics.
Place a link to the page of Mohamed Nour on your website or blog
Post to your blog
Permanent link
BB CODE
Official Website of Mohamed Nour, photo of Mohamed Nour, song de Mohamed Nour, album of Mohamed Nour 2023, music video of Mohamed Nour , word of Mohamed Nour , listen Mohamed Nour mp3