Mostafa Amar -
مصطفى قمر
Biography of Mostafa Amar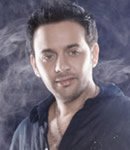 Mostafa Amar, born mostafa Ahmed Mohamed Hassan Amar in Alexandria, Egypt.
Mostafa Amar's debut was while his music teacher chose him as the lead singer in the school concert. At the age of ten, Mostafa had his first guitar and learn to play it.
After graduation from the faculty of Commerce, University of Alexandria, Mostafa Amar moved to Cairo looking for an opportunity to start his singing career.
Joining a major production company, Mostafa Amar released his first song "Wala Yabou Khad Gameel" in a collective album. His first album "Wassaf" launched in 1990 was a real big success. Mostafa then followed with the song "Dabadebou" for which he shot the music video clip. The song achieved gaining him a huge success.
By 1993, Mostafa Amar released his second album "Layaleki" which pushed the singer further ahead and achieved huge sales. The following albums from "Seket Al-Ashe'en" to his latest "Lessa Habayeb". Mostafa was awarded of the Best Arabic singer for 2008 in several polls, Nugoom FM, Akhbar Al Yom Newspaper & Nile.
Mostafa Amar entered the silver screen starring in many successful films like "Al-Batal", "Al-Hob Al-Awal" with Mona Zaki and Hanan Turk, "Ashab Wala Business" with Hani Salama and many others including the latest "3essabet Dr.Omar" with Yasmine Abdel Aziz.
When it comes to his personal life, Mostafa has been married since September 18th, 1993 and has two young sons, Eyad & Tayyam.
Place a link to the page of Mostafa Amar on your website or blog
Post to your blog
Permanent link
BB CODE
Official Website of Mostafa Amar, photo of Mostafa Amar, song de Mostafa Amar, album of Mostafa Amar 2022, music video of Mostafa Amar , word of Mostafa Amar , listen Mostafa Amar mp3