Nadia Mostafa -
نادية مصطفى
Biography of Nadia Mostafa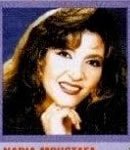 Nadia Mostafa is an Egyptian singer. She was born in October 27th, 1963.
She was graduated in 1983 from the Faculty of Arts, Cairo University.
Nadia Mostafa was discovered by the composer Mohamed Sultan in the broadcast talents of an Egyptian network.
She sangs many colors such as the romantic musical comedy, popular, national, religious and social and met the success with the song ' Essol7e Kheir'.
Throughout her career, Nadia Mostafa, released a number of albums, among them is cited 'Wala Kan Ala Baly', 'El Solh Kheer', 'Ya Maya'....
Among her best- known songs is cited 'Salamat', 'Masafat', ' Essol7e Kheir', 'Bikoul Loughat El 3alam', 'Gay Fe Eih', 'Leina', 'Regaa El Sheta', 'En Gait Tesaal', 'Maktob Alaya'...
Nadia Mostafa is married to a Syrian artist Arkan Fouad and has two daughters.
Place a link to the page of Nadia Mostafa on your website or blog
Post to your blog
Permanent link
BB CODE
Official Website of Nadia Mostafa, photo of Nadia Mostafa, song de Nadia Mostafa, album of Nadia Mostafa 2022, music video of Nadia Mostafa , word of Nadia Mostafa , listen Nadia Mostafa mp3