Omar Khairat -
عمر خيرت
Biography of Omar Khairat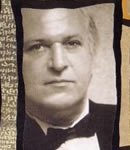 Omar Khairat is an Egyptian musician born in Cairo to an artistic family.
Omar's first dean was no other than his uncle the composer Abu Bakr Khairat and the founder of the Music Academy (the Cairo Conservatoire).
After having chose his path, Khairat joined the Academy in 1959 and studied piano and musical theory. Graduate, he enrolled in Trinity College of Music in London. In the same time, Omar Khairat got closer to international music including Jazz. He then joined Les Petits Chats, one of the most important bands in Egypt, as drummer. In 1979, he switched to a pianist career and gained a lot of admiration and music knowledge. Shortly, his works were warmly applauded by the public.
Omar Kheirat major work was the musical score for the film "The Night of Fatima's Arrest". The score was reproduced as an audio cassette which was a première.
Omar Khairat had also composed musical scores for several TV squalls and movies.
Place a link to the page of Omar Khairat on your website or blog
Post to your blog
Permanent link
BB CODE
Official Website of Omar Khairat, photo of Omar Khairat, song de Omar Khairat, album of Omar Khairat 2022, music video of Omar Khairat , word of Omar Khairat , listen Omar Khairat mp3