Oum Kalsoum -
أم كلثوم
Biography of Oum Kalsoum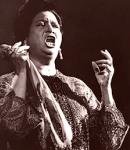 Oum Kalsoum, born Omm Kalsoum Ebrahim Elbeltagi December 31st, 1904 in Tamay ez-Zahayra village in El Senbellawein, Dakahlia Governorate (Egypt) was an Egyptian singer.
Born to an Imam, Oum Kalsoum learned to recite the Qur'an. At the age of 12, disguised as a boy, Oum Kalsoum entered in a performing troupe till she was noticed by the musician Zakariyya Ahmad and went with him to Cairo in 1923.
In Cairo, Oum Kalsoum met the famous poet Ahmad Rami and the very talented lute virtuoso and composer Mohamed El Qasabgi who made her career move on to the apex of the pyramid only a few years later.
Oum Kalsoum experienced her first public success in the Arabic Theatre Palace with her astonishing ''Mawawils'', Egyptian musical style of the time, including ''Al Awila Fil Gharam'', Oum Kalsoum first hit.
Later on, Oum Kalsoum gave concerts broadcasted on the first Thursday of every month and attended by millions of people so that president speeches and government messages were often given after the singer's concerts.

Oum Kalsoum gave to the Arab musical repertoire a huge contribution with songs like : "Amal Hayati'' ,"Enta Omri'' , '' Fat el Mead'', ''Lel Sabr Hedod'', ''Baeed Anak''…
Oum Kalsoum died of Nephritis on February 3, 1975 in Cairo.
Place a link to the page of Oum Kalsoum on your website or blog
Post to your blog
Permanent link
BB CODE
Official Website of Oum Kalsoum, photo of Oum Kalsoum, song de Oum Kalsoum, album of Oum Kalsoum 2023, music video of Oum Kalsoum , word of Oum Kalsoum , listen Oum Kalsoum mp3