Ruby -
روبي
Biography of Ruby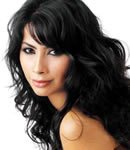 Ruby, born Rania Hussein October 8, 1981, is an Egyptian singer and actress.
After graduating with a degree in Law from Bani Suwayf University (Egypt), Ruby surprisingly started her career as a model. She first appeared in Romanoff music video of the song "Don't Make Me Cry'' and, noticed by advertisers, she appeared on several television commercials. Discovered by Egyptian director Youssef Chahine, Ruby worked in the film "Sekout Hansawwar" in 2001 and then in the comedy "Film Tahkafy" which kind of roles drewn her a portrait of a glamorous and smoldering girl.
It was Sherif Sabri who directed the talked about music video of her first hit "Inta Aref Leh". Her provocative appearance on the work brought her critics but also much fame. Ruby's music video of her second song featured as the first one very provocative contents. It results that Ruby is now one of the most criticized female artists in Egypt.
Ruby also starred in Sherif Sabri's movie "Saba' Wara'aat Kotcheena".
Place a link to the page of Ruby on your website or blog
Post to your blog
Permanent link
BB CODE
Official Website of Ruby, photo of Ruby, song de Ruby, album of Ruby 2023, music video of Ruby , word of Ruby , listen Ruby mp3