Saad Al Soghayar -
سعد الصغير
Biography of Saad Al Soghayar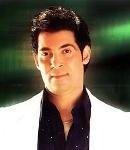 Saad Alsoghayar, Egyptian Shaabi style performer.
Following Hakim's path, Saad Alsoghayar made his debut in the very deep of U.S where he released his first album in 2006. He quickly built himself a brilliant career of Shaabi perfomer through a purely traditional sound.
Saad Alsoghayar is among the most the most popular, widely renowned Shaabi Egyptian artists. Saad Alsoghayar's works includes "Bellydance Superstars, vol. 3", "High Quality Arabic Music, Vol. 1".
His most popular songs include :
Bel Arabi
Kalam ala Meen
Shokran Aal Akher
Ya Tayeba Yamma
Place a link to the page of Saad Al Soghayar on your website or blog
Post to your blog
Permanent link
BB CODE
Official Website of Saad Al Soghayar, photo of Saad Al Soghayar, song de Saad Al Soghayar, album of Saad Al Soghayar 2021, music video of Saad Al Soghayar , word of Saad Al Soghayar , listen Saad Al Soghayar mp3