Shaymaa Saeed -
شيماء سعيد
Biography of Shaymaa Saeed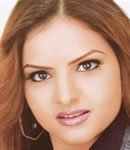 Shaymaa Saeed is an Egyptian female singer.
Originaly an actress, Shaymaa Saeed started her singing career by a first album "Ghadar". The head-song of the album was a great success and earned much popularity in many Arab-speaking countries since its release.
Other hit songs of Shaymaa Saeed were "Wu Lissa Layali" and "Da Malou Da".
Shaymaa Saeed's latest album is the nine-tracked "Daybah" and includes three hit songs.
Place a link to the page of Shaymaa Saeed on your website or blog
Post to your blog
Permanent link
BB CODE
Official Website of Shaymaa Saeed, photo of Shaymaa Saeed, song de Shaymaa Saeed, album of Shaymaa Saeed 2021, music video of Shaymaa Saeed , word of Shaymaa Saeed , listen Shaymaa Saeed mp3