Shirine Abdelwahab -
شرين عبد الوهاب
Biography of Shirine Abdelwahab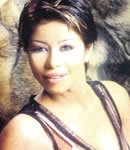 Shirine Abdelwahab born Sherine Abdel Wahhab, also credited as Sherine Ahmed, October 10, 1978 in Cairo, Egypt, is a famous Egyptian pop singer.
Shirine Abdelwahab grew up in a small neighborhood of Kal3a, Cairo. Upon graduating with a degree in music, she started her musical career.
Shirine Abdelwahab's first success was "Ah ya lil" which hitted her on the musical waves and channels and made her quickly cut through a path on the ways of success. Her subsequent title "Sabri Alil" and its video announced her as a special-styled Arab artist. Indeed, thanks to her two first hits, Shirine Abdelwahab earned a reputation of rebel female singer because of the themes of her songs and her look, which label brought more attention to her.
Still in the blush of youth, Shirine Abdelwahab made a name on the Arab musical scene with songs like "Garh tani", "El Am El Guedid" in duet with Fadhl Chaker and became one of the most acclaimed artists in the Middle East. In her albums, shirine Abdelwahab was always collaborating with authors and composers in vogue.
In 2007, before her pregnancy, Shirine prepared her first appearance on the big screen in Egyptian movie "Tifa and Tuma".
Place a link to the page of Shirine Abdelwahab on your website or blog
Post to your blog
Permanent link
BB CODE
Official Website of Shirine Abdelwahab, photo of Shirine Abdelwahab, song de Shirine Abdelwahab, album of Shirine Abdelwahab 2023, music video of Shirine Abdelwahab , word of Shirine Abdelwahab , listen Shirine Abdelwahab mp3