Majid Al Mohandes -
ماجد المهندس
Biography of Majid Al Mohandes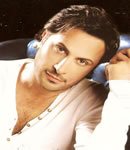 Majid Al Mohandes, Iraqian singer.
Majid Al Mohandes first broke through with a song "Kaddaba" which had a big success as much as its comic music video. He then released "Waheshni Moot" in 2005 and "Enjanet" one year later.
The latest album of Majid Al Mohandes is "Ensa". The album includes 16 songs. Music video of the patriotic song "Ahebak Ya 3iraq" was shot as soon.
Place a link to the page of Majid Al Mohandes on your website or blog
Post to your blog
Permanent link
BB CODE
Official Website of Majid Al Mohandes, photo of Majid Al Mohandes, song de Majid Al Mohandes, album of Majid Al Mohandes 2023, music video of Majid Al Mohandes , word of Majid Al Mohandes , listen Majid Al Mohandes mp3