Naseer Shamma -
نصير شمة
Biography of Naseer Shamma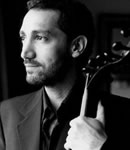 Naseer Shamma is a renowned Iraqi Oud player. He was born in 1963 in Kut, a village on the Tigris River.
At the age of 12 Nasser Shamma began studying the oud in Baghdad. In 1985, he performed his first concert and played his own compositions.
2 years later he received his diploma from the Baghdad Academy of Music, and became a teacher of oud in 1990 in the Academy.
In 1999, Naseer Shamma took the Direction of the Arab Centre for the Oud in Cairo.
Throughout his career, Naseer Shamma, released a number of albums, among them is cited 'The Baghdad Lute' in 1994, 'Ishraq' in 1996, 'The Moon fades' in 1999, 'Maqamat Ziryab' in 2003, 'Meditation in 2005, 'Art Alsawad' in 2006.
Place a link to the page of Naseer Shamma on your website or blog
Post to your blog
Permanent link
BB CODE
Official Website of Naseer Shamma, photo of Naseer Shamma, song de Naseer Shamma, album of Naseer Shamma 2021, music video of Naseer Shamma , word of Naseer Shamma , listen Naseer Shamma mp3