Shada Hassoun -
شذى حسون
Biography of Shada Hassoun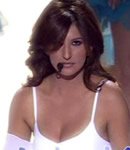 Shada Amjad Hassoun Alshamery simply known as Shatha Hassoun is an Iraqi singer. She was Born on March 3th, 1981 in Casablanca, Morocco to Iraqi father and Moroccan mother.
Shada studied English Literature in her hometown Casablanca, and continued a program of Hotel and tourism in Tangier University.
She rose to fame after participating in Talent show Star Academy Lebanon 4 and won the competition. She can sing in many languages: Arabic, English, French, Spanish, Italian and German.
After her participating, in Star Academy4, Shada shot three songs as video clips. The first song is entitled ' Rooh' which was written and composed by Nikola Saada Nikhla, the second one is entitled 'Asmallah Asmallah', which written and composed by the Iraqi Poet Karim Al Iraki. Her last song is titled ' Oushaq' that was written and composed by Marwan Khouri.
Recently, she won the 2007 Murex D'or Award as the Best Uprising Artist.
Place a link to the page of Shada Hassoun on your website or blog
Post to your blog
Permanent link
BB CODE
Official Website of Shada Hassoun, photo of Shada Hassoun, song de Shada Hassoun, album of Shada Hassoun 2022, music video of Shada Hassoun , word of Shada Hassoun , listen Shada Hassoun mp3