Diana Karazon -
ديانا كرزون
Biography of Diana Karazon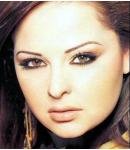 Diana Karazon or Diana Mohammed Samih Karazon is a Jordanian singer but is originally Palestinian, she was born on October 30th, 1983 in Kuwait. She has one brother Daoud and two twin sisters Zine and Haya.
In 2003, she won in the first edition of Superstar, the Arabic version of American Idol.
Diana has discovered the music through her father who himself was a musician and a member of the Jordanian Artists Association.
At the age of 6, she sang in public, a song entitled 'Ya Ayyuha Al Maliko', in the glory of King Hussein of Jordan.
Before joining Superstar Diana Karazon had already won a singing competition at MBC radio station After participating in Superstar and after winning first place in this competition Diana Karazon has become a famous name in modern Arabic music.
In 2005, Diana Karazon launched her first album entitled 'El Omr Mashy'.
Place a link to the page of Diana Karazon on your website or blog
Post to your blog
Permanent link
BB CODE
Official Website of Diana Karazon, photo of Diana Karazon, song de Diana Karazon, album of Diana Karazon 2021, music video of Diana Karazon , word of Diana Karazon , listen Diana Karazon mp3