Mousa Moustafa -
موسى مصطفى
Biography of Mousa Moustafa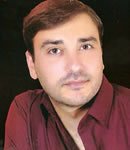 Mousa Moustafa is a Jordanian singer.
Mousa Moustafa grew up in a Syrian house with the sound of religious chants. In 1987, Mousa Moustafa first participated to a Festival held by the Jordanian University of Aman. Later, many events took him out of Jordan. He released his first album in 1999 entitled "Leil Wa Qamar" in which the influence of the Atifi and Wijdani styles was evident.
In 2001, Mousa Moustafa released his second album "Ha Qad Rahalt" including iraqian, yemenian and Syrian folk melodies. The album was followed by the eight-tracked "Li Ajlik Oghanni" in 2004. Mousa Moustafa also contributed in other albums like "Ilayki", "Maraya", "Operett Oumat El Milyar" and others.
Mousa Moustafa's latest album was "Ahibini".
Comments on Mousa Moustafa
Place a link to the page of Mousa Moustafa on your website or blog
Post to your blog
Permanent link
BB CODE
Official Website of Mousa Moustafa, photo of Mousa Moustafa, song de Mousa Moustafa, album of Mousa Moustafa 2020, music video of Mousa Moustafa , word of Mousa Moustafa , listen Mousa Moustafa mp3